A triangle of "stars" can be seen above and left of the new moon.
Only one, the lowest is really a star the bluish Spica.
The red one to the left is the planet Mars.
And the golden upper one is the planet Saturn.
The moon is ready to set behind Penteli mountain and looks like full moon although its a new moon, because of light flood caused by overexposure that was needed for the stars to appear...
A nice surprise in this photograph is that although zoom was not used, the colours of the 3 celestial objects are clear!
This photograph brought me memories from the club:
It was George Savopoulos (astrophysicist and general secretary of the club at 1985) who pointed out to me that celestial bodies were not all white!
Mars, he told me, is red for example.
Then while discussing astrophotography, an important hobby of Vasilis Wooseas (teacher and writer)
I learned that astrophotography can be done with any equipment if one knows how to do it.
It took me some time to put that knowledge in use but the result was rewarding for the effort...
Πλήρες άλμπουμ υπάρχει στο Facebook:
https://www.facebook.com/media/set/?set=a.10151131556819399.461574.853049398&type=3
Public Facebook album with this phenomenon:
https://www.facebook.com/media/set/?set=a.10151131556819399.461574.853049398&type=3
Με τον μετρητή που ακολουθεί φαίνονται και οι προτιμήσεις
των περισσότερων από μας έτσι ώστε να διαμορφώνεται
καλύτερα το περιεχόμενο του Περιοδικού μας

*
***
*******
**********
*************

Flag counter since January 2, 2013 (when main counter at the top of the page had 627136 visits):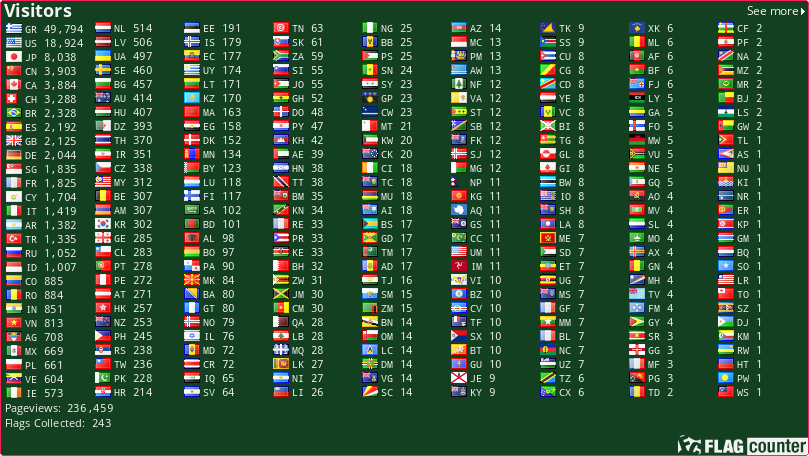 Shinystats:

*************
**********
*******
***
*